If you want more than just a job, if you want to make a difference in people's lives,
then COMHAR has opportunities for you.
We are Now Hiring!
$1,000 Sign On Bonus for Spanish Speaking Case Managers!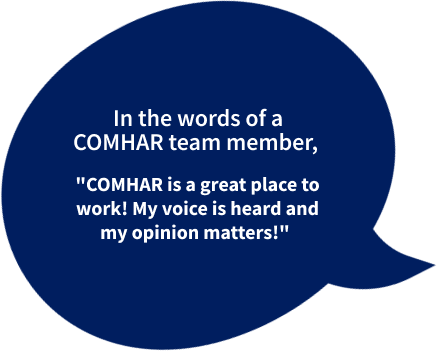 I began my journey as a contractor clinician at COMHAR in February of 2002. My experience working with COMHAR staff and the children I worked with provided me with numerous joyful memories. In 2011 I decided to take on an administrative role with the agency, which eventually led to my appointment as Division Director of Children's services. I can truly attest to the fact that COMHAR is not only a place where I have honed my skills but has become a second family.
Kevin
Since 1982 when I started at COMHAR as an outpatient therapist, COMHAR has offered me the opportunity to grow professionally and work with a team of exceptional staff. The dedication and commitment of our team helps transform the lives of those living with chronic and complex behavioral health challenges and intellectual and developmental disabilities. After 40 years at COMHAR, I still have the same passion to help make a difference in the lives of the people we serve!

Gary
COMHAR has a family feel with a diverse group of dedicated people who genuinely care for our members. Compassionate providers keep our members safe and provide them with quality care. It is for these reasons I chose to come back to COMHAR.

Yasheeka
Family culture, career growth opportunities, flexibility all describe my experience working at COMHAR where I started at the front desk, transferred to medical records, and then became an administrative assistant. Knowing I wanted to continue working at COMHAR and also wanted to continue my education, I was able to obtain my LPN license using COMHAR's tuition reimbursement program. I am so grateful to COMHAR for the flexible scheduling and for allowing me to advocate for our members.

Iris
As a seasoned Human Resources professional and Licensed Clinical Social Worker, I was drawn to COMHAR by its mission. COMHAR's Mission Driven/People First value has afforded me the opportunity to meet employees, managers, supervisors, processes and systems where they are, assess for suitability-of-fit, and mobilize viable resources in efforts to meet stated expectations and objectives, thus actualizing both personally and professionally.

Orlando
I love working at COMHAR and what the company stands for! The tuition reimbursement program helped me obtain my MSM which led to a promotion from a Psych Tech to a Supervisor. With great leaders who mentored me and supported me, and a company that encourages growth, I am now a Division Director. What a great place to learn and grow!

Catina
COMHAR is an agency where people work with people who support one another. I feel supported as a woman with a family! The work/life balance and opportunities for growth make COMHAR an exceptional place to work.

Brittney
My internship at COMHAR was fruitful, colorful and experiential. After becoming a staff therapist, I was offered strong mentorship and Evidence-Based Practice (EBP) training which gave me the opportunity to become a leader, supervisor and now director. Working on a multi-disciplinary team has allowed for growth potential and created strong relationships with community support.

Nichole
We are proud of our talented and caring staff, many of whom have dedicated their
entire career to COMHAR and the members we serve!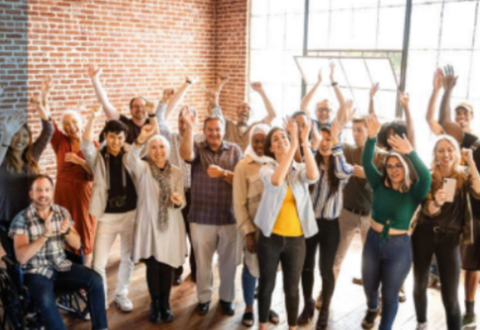 COMHAR Proud
As a people first, mission driven agency, COMHAR is proud of its comprehensive benefits package offered to all regular positions of 30 hours or more per week.  The benefits include paid sick time, vacation, and personal leave; health, dental, life, and pet insurance; retirement savings program; employee assistance program; credit union membership; tuition reimbursement; and long-term disability. 
In addition to tuition reimbursement opportunities, COMHAR maintains a comprehensive training system, Relias, which offers team members the opportunity for on-going learning and growth.  Social Workers, Psychologists, Nurses, and other licensed professionals can receive CEUs through Relias.
Internships with COMHAR
Are you a college student or recent graduate looking to gain experience in the Human Services field? COMHAR has opportunities in nearly every one of our service divisions for passionate and dedicated interns.
Internships are primarily provided for college credit, but exceptions can be made for recent college graduates.
Get started today by forwarding a resume' and letter of interest. The letter should include your area of interest, days, and hours of availability.