At the 19th Annual Conference of Direct Service Professionals sponsored by The Alliance of Community Service Providers, Joshualyn was awarded the Team Spirit Award. Her nomination said, "Joshualyn is the ideal employee and Direct Support Professional. She approaches this work from a place of selflessness and caring, always putting the needs of her individuals first. She has excelled at supporting some of COMHAR's most complex individuals because of her demeanor and strategies, which are always rooted in person-centered approaches. Joshualyn is responsive to the site's needs and is always willing to support her team and individuals in any way that is needed. This level of commitment and positivity allows her to bring out the best in her coworkers. Additionally, she is the ideal preceptor as she patiently and respectfully trains new team members to be effective in their roles. Joshualyn is the kind of employee whose absence is immediately noticed by both residents and her coworkers. She is a role model at her site due to the consistent quality of her efforts – everything she does is high quality. And to top it all off, she is an incredible cook and loves to share her talents with everyone. Joshualyn is the motor that makes her site run and the support that makes her individual lives significantly better. She is such a star!​"
Five other COMHAR Intellectual Disabilities Division team members were nominated for awards.
Leadership Award:​
Clifton Ray​
Will Spells​
Positive Impact Award:​
Bizet Cartegena​
Justin Alston​
Team Spirit Award:​
Joshualyn Lindsey​
Johnston Carter​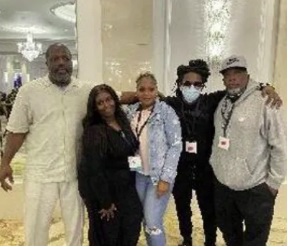 CONGRATULATIONS, Joshualyn and the nominees!​